PlantLock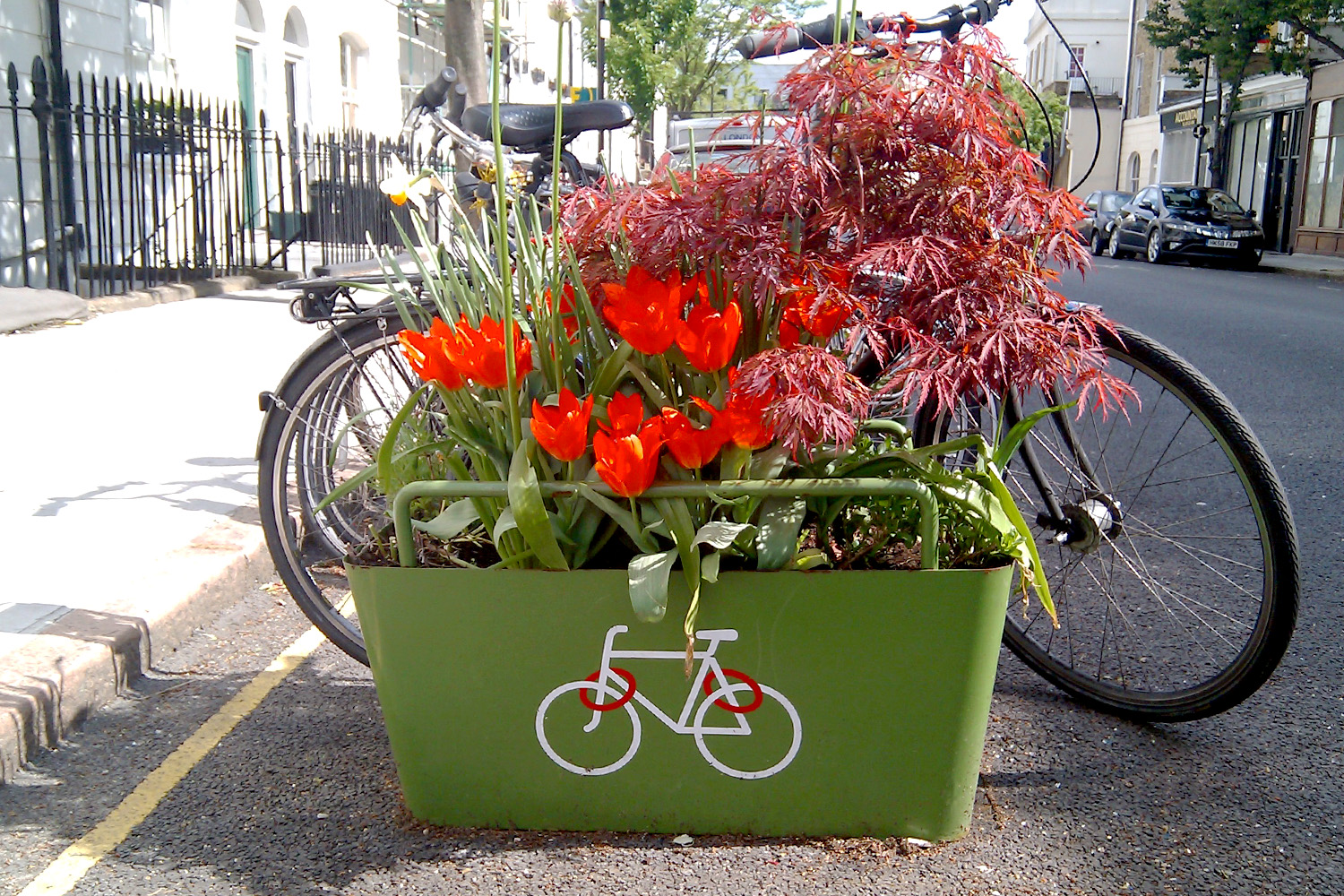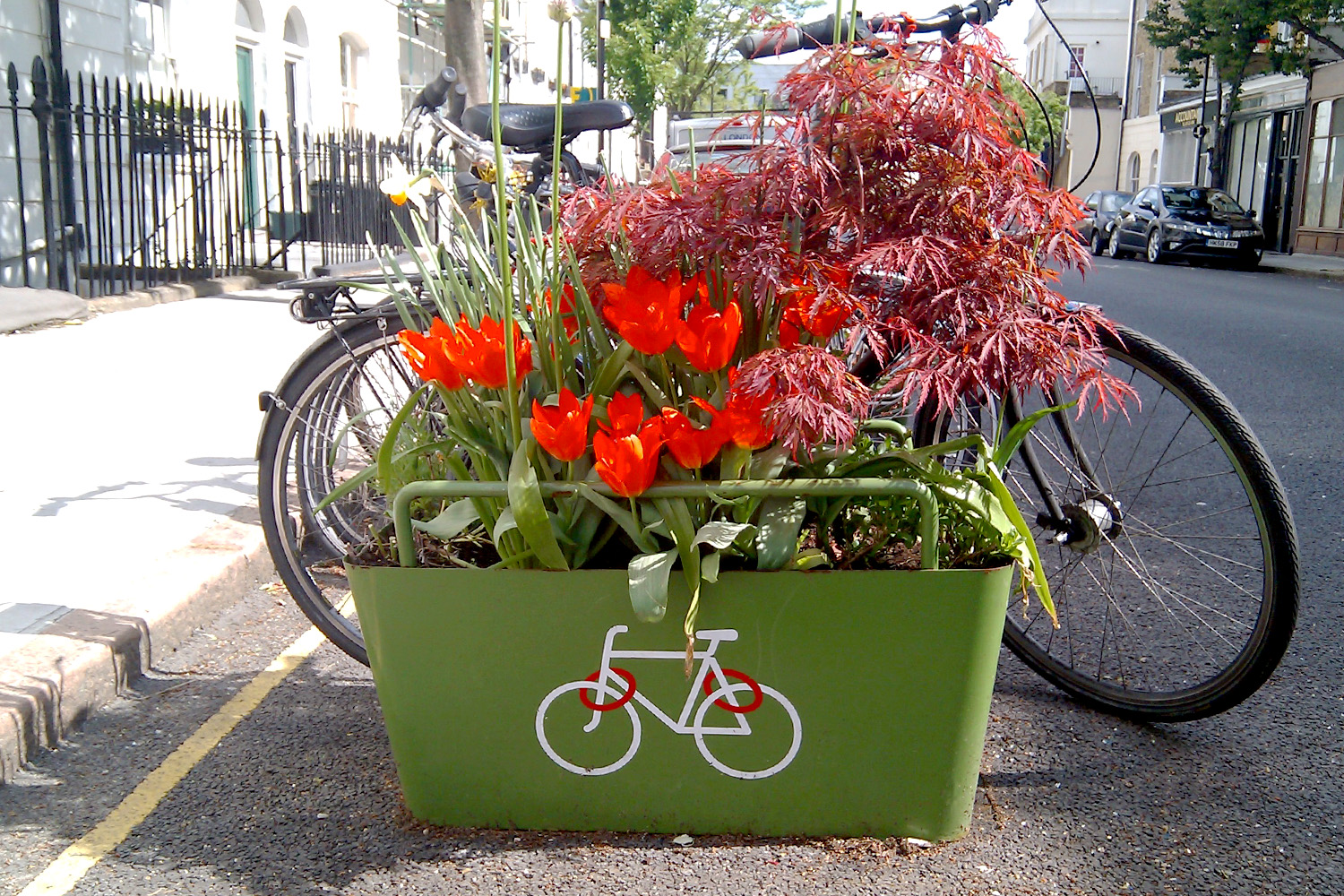 PlantLock secure cycle parking
PlantLock frees up cluttered hallways and stairwells by offering a solid planter to lock your bike to.
PlantLock constitutes an "immovable object" to lock bicycles to, weighing 75+kg when planted up.
Each PlantLock accommodates 2 bicycles.
Designed and manufactured in the UK.
Part of The Design Museum's Permanent Collection.
Specifications
•Accommodates 2 Bicycles. •L900 W400 H520 (mm). •Planter top edge 400mm high. •Weighs 75+kg/165lbs when full. (heavier still when wet - after rainfall/watering). Can be permanently fixed to the ground using fixing holes in base. •Steel planter and 19mm solid boron steel round bar, case hardened and tempered, to achieve robustness beyond nearly all commercially available bicycle locks (see Strengthtest video). •Finished with active anti-corrosion coating and polyester powder top-coat.
Security
PlantLock uses its sheer weight (when filled) and super-toughened locking bars to secure bicycles. Cyclists use their own locks to secure their bicycle to PlantLock. The position of the locking bars encourages the safest locking practice of securing both wheels and frame (as recommended by Design Against Crime research). Best practice advice: Place PlantLocks in well lit areas, that are ideally overlooked by building occupants or passers-by. Avoid blindspots, and areas obscured by trees or hedges. Encourage the use of quality bicycle locks, preferably 2 of different types. Bicycle frame and both wheels should be secured to the locking bars for best security. Although generally not bolted down, PlantLock can easily be fixed to the ground without the need for digging or concrete. As an 'Immovable Object', your bicycles can be covered by some bicycle and home insurance
Planting
For varied planting, that requires occasional care through the year, PlantLocks have been planted with things as varied as strawberries, flowering crab apple trees, lavender, & herbs. Autumn is the time for planting bulbs such as crocus, grape hyacinth, and snowdrops, to come through in the early new year. Spring and Summer months can be any variety of annual flowers and perennials, and kitchen herbs such as thyme, marjoram, and tarragon. • For Biodiversity: Nearly all plants in flower will provide nectar for insects. But to really encourage and enjoy seeing butterflies, hover-flies, and bees, native flowers give a food source and habitat uncommon in urban areas. A wild-flower mix of seeds such as birds foot trefoil, fox and cubs, yellow horned poppy, small scabious, greater knapweed, and cornflowers. Plants such as these may need watering through dry spells, and as annuals will die back in Autumn. • Low maintenance, drought tolerant: For all year planting, we use Hebes, a delicate-looking but robust shrub with a dwarf habit. These are in leaf all year round, flowering at different times. Hebe pinguifolia 'Pagei', Hebe Pascal with reddish leaves in winter, and Hebe 'Carl Teschner' with more sprawling growth. • Rainfall-only planting (requiring the lowest levels of attention): Sedums are hardy, ever-green plants, with succulent, water-storing leaves. Often used for green roofs, sedums prefer poor, free draining soil. Plants are available as small seedling plugs or grown seedling mats. The following varieties are some that are suitable for PlantLock and the UK climate: Sedum acre, album, album 'Athoum' and 'coral carpet', 'spurium tricolour', 'fuldaglut', and 'green mantle', sarmentosum, sexangulare, and ewersii. These varieties are often available as a 'greenroof sedum mix'. A mix of compost, sharp sand and crushed aggregate or gravel will drain well. Until established, all plants need watering during dry spells.
FAQ's
• Our stock PlantLocks are in red -"Dark Mulberry Red" (RAL 3005) or green - "Spring Forest Green" (RAL 6025) Both the red and the green were chosen to work well with a variety of planting, and to look good over a long time. We can do special colour PlantLocks - but for small no's it is expensive. • Filling your PlantLock: Our filling suggestion is - a 25 kg bag of 20mm gravel, as a drainage layer at the bottom of the planters. Then 2no. 60 - 70 litre bags of compost, preferably peat-free. But you can also tailor the soil / compost to suit the plants you intend to use. There is more filling and planting advice on the leaflet enclosed with each PlantLock purchased. • We don't sell any bicycle locks ourselves, but always recommend using 2 locks, each locking a wheel to the frame, and to a PlantLock. The combination of a good quality D Lock and a curly cable lock works well. Most bike theft is opportunistic, and thieves generally don't carry tools for very different types of locks.
EC Design Registration no. 001575846/0001
PlantLock accommodates most bicycle types on the market. Bicycle frame and both wheels can be secured to the bar with the owner's existing locks – ideally two quality locks of different types, as recommended by SoldSecure.
PlantLock requires minimum maintenance, being made from robust, durable materials. The locking bar is made from boron steel, case-hardened and tempered, to achieve robustness beyond most commercially available bicycle locks.
PlantLock planting: PlantLock is suitable for growing a wide range of flowering plants, hardy shrubs, fragrant herbs, and alternatively, low maintenance, drought tolerant planting.
PlantLock is best positioned in a well lit location, in open view from inside and outside the house, avoiding blind spots and shadows from trees and other visual obstructions. For permanent fixture, PlantLock can be attached to the ground, using fixing holes.
As well as providing safe and tidy bike storage, PlantLock begins to transform the front yard into a green space.
PlantLock can also be used in back gardens, balconies, communal gardens and other maintained public places.
We only make innovative products; we do not resell standard equipment, and we choose to manufacture in the UK and support local economies.
The Black Lark is twinned with PlantLock.
The first sighting of the Black Lark, photographed two thousand miles from its home of the Russian Steppes, in Holyhead, North Wales 2003, established it as one of the newest residents in the uk.
Like the Front Yard Company's products for re-invigorating frontyards, the Black Lark is a new arrival to this country.
Changes in how we get around our cities, how deliveries are made to us, how our refuse and recycling is collected, all mean changes to our homes and outdoor spaces.
The Front Yard Company seeks to create an environment that is enjoyable, accommodates change, and always benefits wildlife.